Before you export your contacts from your phone to your Blackberry device, you must download the Backup Assistant Application to your device.
 Instructions on Downloading Backup Assistant Application:
1
Select "Get it Now" or "Media Center" from the device's menu, then select either "Tools on the Go" or "Browse & Download".
After downloading the Application, please follow the instructions for syncing your contacts to the Web.
2
On the My Verizon landing page, select either "My Contacts" from the account actions on the right side of the page or the "Contacts" button at the top of the page.
3
Export the .csv file: Note: CSV stands for Comma Separated Values
3a
Select the contacts that you want to export. If you want to export the entire list use "Select All".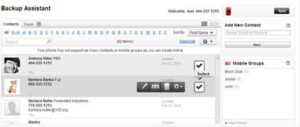 5
Launch Microsoft Outlook version (or your preferred mail application) and select "Import" from the "File" menu. Additional mail application instructions:  Outlook Express, Mac, Entourage.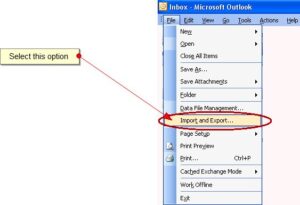 6
Follow the system prompts to import your contacts. To import a .csv file, select "Import from another program or file", and then on the following screen, select "Comma Separated Values (Windows)"
8
(For corporate/enterprise users): Contacts will automatically sync to your BlackBerry via BlackBerry Enterprise Server. If you experience issues while syncing, please contact your system administrator.
9
(For personal users): Personal users are able to sync contacts to their BlackBerry Desktop via the BlackBerry Desktop Manager. To download and use the BlackBerry Desktop Manager please:
a. Download BlackBerry® Desktop Manager onto your computer.
b. Connect your device to your computer using a USB cable.
c. Click "Synchronize" on BlackBerry Desktop Manager.
d. Select the data you would like to synchronize with your device.
Additional Information:
For more additional information on BlackBerry Desktop Manager, please visit BlackBerry.com. Also if you have any questions on how to export contacts from your Verizon phone to your BlackBerry device, please contact Centennial Arts with the link below.
Resources:
http://support.verizonwireless.com/how_to_use/transfer_contacts/blackberry_old.html