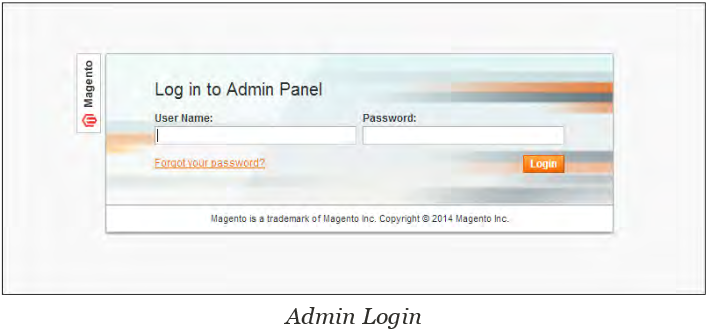 All of the basic configuration tasks are performed in the Magento Admin Panel, which is referred to in this guide as your store Admin. We will discuss the Admin Panel Login and Dashboard in Magento.
Admin Panel Login and Dashboard in Magento
To Log In To Your Store Admin
1. For a new Magento installation, do the following:
On the last page of the Magento Installation Wizard, click the Go to Backend button.
In the address bar of your browser, enter the URL that you specified in the Magento Installation Wizard, followed by the base URL of your store's Admin. Most Admin URLs look like this:

http://www.mystore.com/admin
You can bookmark the Admin Login page for easy access.
2. Enter the User Name and Password that was specified during the Magento installation.
3. Then, click the Login button.
Dashboard
The dashboard is usually the first page that appears when you log in to the Admin, and gives an overview of sales and customer activity. The blocks on the left provide a snapshot of lifetime sales, average order amount, the last five orders, and search terms. The graph depicts the orders and amounts for the selected date range. You can use the tabs above the graph to toggle between the two views.
Although by default, the dashboard is the startup page for the Admin, you can change the configuration to show a different page when you log in. You can also set the starting dates used in dashboard reports, and disable the display of the charts section.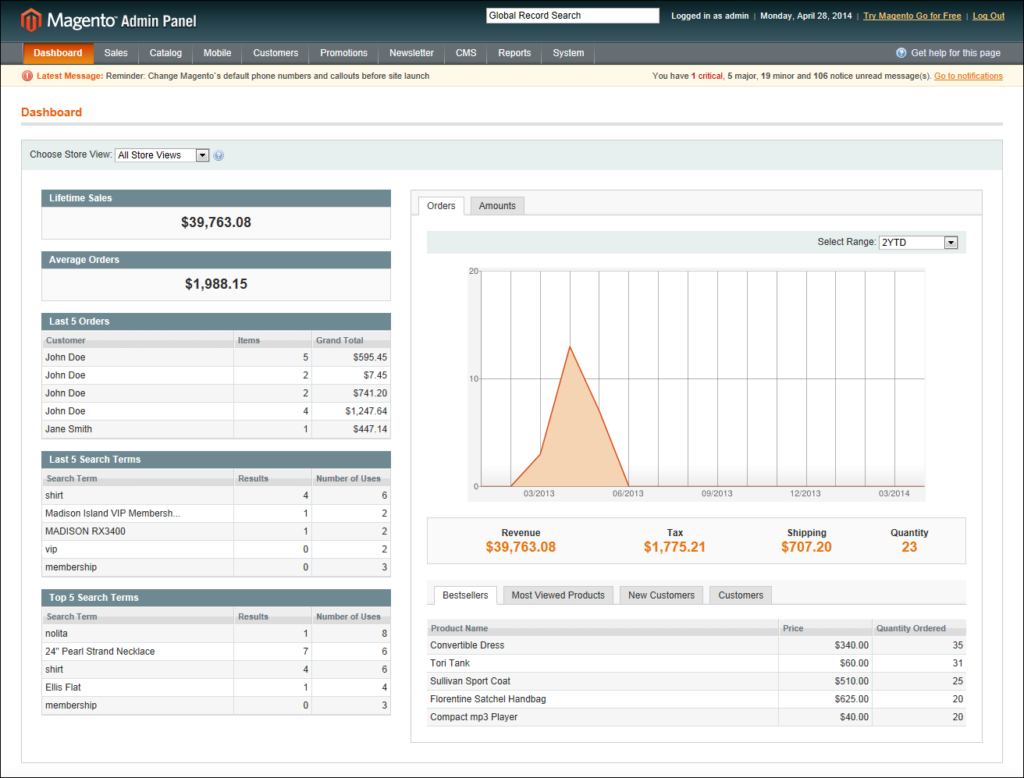 Snapshot Reports
The tabs at the bottom provide quick reports about your best-selling and most viewed products, new customers and those who have purchased the most.
Bestsellers: Lists your best-selling products, showing the price and quantity ordered.
Most Viewed Products: Lists the most recently viewed products and the number of times viewed.
New Customers: Lists recently registered customers.
Customers: Lists the customers who have ordered the most during the specified range of time.