General Information about Categories in Magento
On the General Information tab, complete the basic information about the category you are creating or editing. You can enter keywords to improve the way the category is indexed by search engines, create a URL key for the category, and activate or deactivate the category.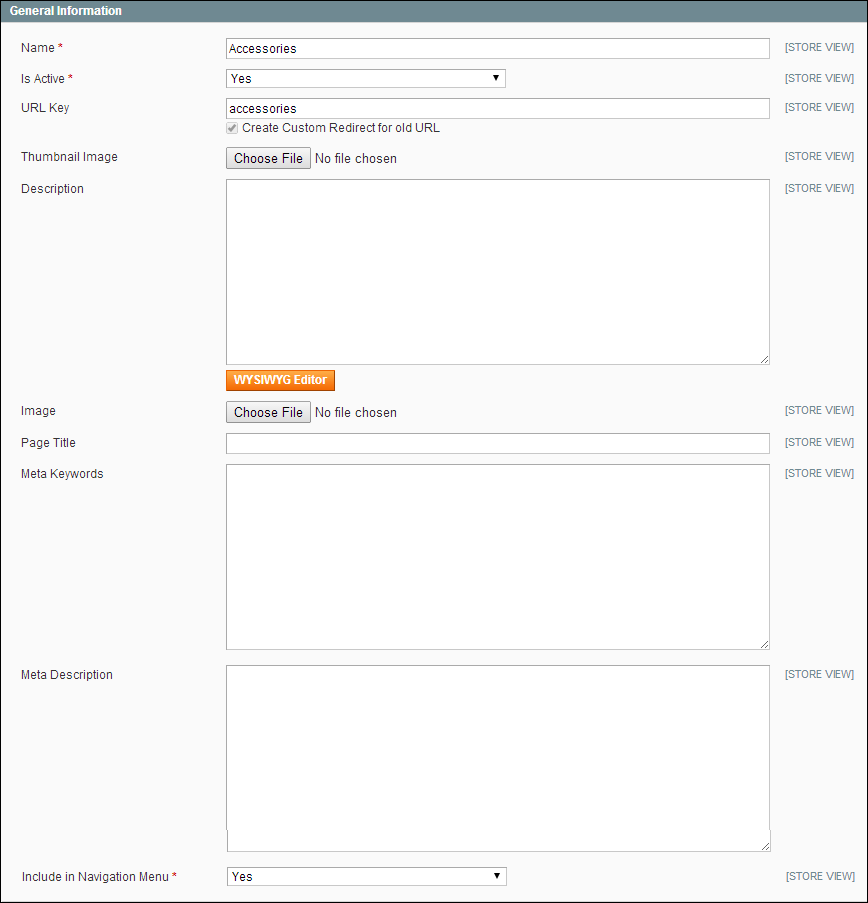 Field Descriptions
FIELD: Name
(Required) The category name appears in the navigation, and also in the URL key of the category page and associated product pages.
FIELD: Is Active
(Required) To make this category available, select "Yes." Options include: Yes / No
FIELD: URL Key
The URL Key is a relative path to the category, and is automatically generated when the category is saved. The URL Key must be all lower-case characters, with no spaces. As a best practice, each word is separated by a hyphen. If you edit the default URL key, a custom redirect is created automatically. A root category does not have a URL key.
FIELD: Thumbnail Image
If supported by your theme, a thumbnail image can be associated with each category and appear as part of the option in the main menu of the store.
FIELD: Description
The category description, if used, appears below the category image- and before the product list.
FIELD: Image
The category image, if used, appears at the top of the category page, before the description and product list.

As an alternative, you can display a CMS static block in place of the description and image. (See Category Display Settings.)
FIELD: Page Title
The category page title appears in the browser tab and title bar. As a best practice, the title should be not more than twelve words in length, and should include a combination of primary and secondary keywords.
FIELD: Meta Keywords
Keywords are used by some search engines, and not by others. You can use a keyword search tool to identify high value keywords that relate to your category. A general rule is to use no more than thirty keywords, or 180 characters. Avoid repeats, and empty words such as "a," "an," "or" and "that."
FIELD: Meta Description
Enter a description of the category, using approximately twenty-five words or 150 characters.
FIELD: Include in Navigation Menu
(Required) Determines if the category is included in the main menu. Options include:

Yes: Include this category in the top navigation, select "Yes."
No: Hides the category, although it is active.Hidden categories do not appear in the top navigation, but are included in layered navigation.
Topics in the Category section:
If you have any questions about using or upgrading to Magento, or even converting to responsive design for your existing website, do not hesitate to contact us.