Instructions on how to create a navigation bar in caWeb.
1
To place a navigation bar on your site you need to click on the navigation button. Then select the appropriate number of pages that fits your design.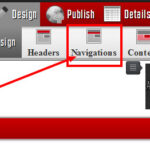 2
After you have selected the nav bar you can customize the page names by clicking on one of them once. Now you will see a bar appear on the screen saying formatting Menu which allows you to begin typing the page name.