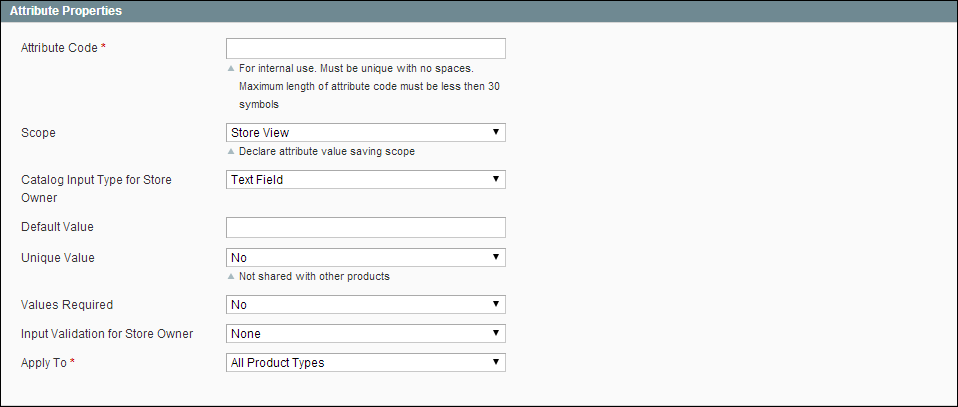 The Attribute Properties in Magento define the individual characteristics that determine how an attribute can be used in the product catalog.
Attribute Properties in Magento
Property Descriptions
PROPERTY: Attribute Code
(Required) A unique identifier for internal use. The Attribute Code must begin with a letter, but can include a combination of lowercase letters (a-z) and numbers (0-9).The code must be less than thirty characters in length and cannot include any special characters or spaces, although an underscore (_) can be used to indicate a space.
PROPERTY: Scope
Limits the use of an attribute to a specific store view or website. Options include:

Store View
Website
Global
PROPERTY: Catalog Input Type for Store Owner
Determines the data type and input control that is used to manage the product from the store Admin. Options include:

Text Field: A single line input field for text.

Text Area: A multiple-line input field that can display paragraphs of text formatted with HTML.

Date: An input field for date values. The date can be typed directly into the field, or selected from a list or calendar.

Yes/No: A drop-down list with pre-defined options of "Yes" and "No."

Dropdown: A drop-down list of configurable options, from which only one can be selected.

Multiple Select: Displays a drop-down list of configurable options. To select more than one option, hold down the Ctrl key and click each item.

Price: An input type that can be used to create price fields in addition to the predefined attributes: Price, Special Price, Tier Price and Cost.

Media Image: An additional image that can be included in the attribute set of a product.

Fixed Product Tax: An input type that gives you the ability to define FPT rates based on the requirements of your locale.
PROPERTY: Default Value
Assigns a starting value to the attribute to help during data entry. To assign a default value for Multiple Select or Dropdown input types, see: Creating Attributes.

A default value cannot be set for Multiple Select, Dropdown, or Fixed Product Tax input types.
PROPERTY: Unique Value
To prevent duplicate values in a data entry field, set Unique Value to "Yes." Options include: Yes / No
PROPERTY: Values Required
To require that a value to be entered in this field before the record can be saved, set Values Required to "Yes." Options include: Yes / No
PROPERTY: Input Validation for Store Owner
Performs a validation check of the data entered in the field, based on the following options:

None
Decimal Number
Integer Number
Email
URL
Letters
Letters (a-z, A-Z) or Numbers (0-9)
PROPERTY: Apply To
(Required) Identifies the product types to which this attribute applies. Options include:

All Product Types
Selected Product Types
Simple Product
Grouped Product
Configurable Product
Virtual Product
Bundle Product
PROPERTY: Use to Create Configurable Product
(Dropdown input type only) Select "Yes" if this attribute will be used to create a drop-down list for a configurable product. Options include: Yes / No
Topics in the Attributes section include the following:
If you have any questions about using or upgrading to Magento, or even converting to responsive design for your existing website, do not hesitate to contact us.